BCM Global Pitching Online Evaluation Result (Re-Announcement*)
본문
Following is the Online preliminary evaluation result for applied contents, ONLINE BCM2020 Global Pitching
1. Summary
○ Evaluation date : 2020. 11. 10(Tue.), Online Evaluation
○ Panel of Judges : 6 judges (Korea Drama Production Association, Busan Animation Association , BCM Investment Advisories)
| | | | | |
| --- | --- | --- | --- | --- |
| № | Company | Name | Job Titile | Group |
| 1 | KONA I Partners | KIM Joo-Hyung | Executive Director | BCM Investment Advisories |
| 2 | Korea Investment Partners | LEE Ji-Soo | Director | BCM Investment Advisories |
| 3 | Company K Partners | JANG Wook-Jin | General Director | BCM Investment Advisories |
| 4 | Daekyo Investment | SHIN Min-Kyeng | Team manager | BCM Investment Advisories |
| 5 | KOREA Drama Production Association | BAE Dae-sic | Secretary General | Korea Drama Production Association |
| 6 | Picostorm | YANG Chang-Won | CEO | Busan Animation Association Member |
2. Evaluation Criteria
 1) Propriety of the project
 2) Overall evaluation of the project plan
 3) Creativity of marketing plan, riffle effect and budget planning
 4) The companies' business performance
 5) Co-operation and utilization plan with related association
ONLINE BCM2020 BCM Global Pitching Evaluation Result (22 applied / 16 selected)

Type

Total

Animation

Drama

Movie

Documentary

Promoting Local Producers

Applied

26

4

5

6

7

4

Selected

20

4

4

4

4

4
※ The 4 'Promoting Local Producers' category will join with non-contest basis through contest in the first half of this year.
3. Selected Companies *In English alphabetical order of contents name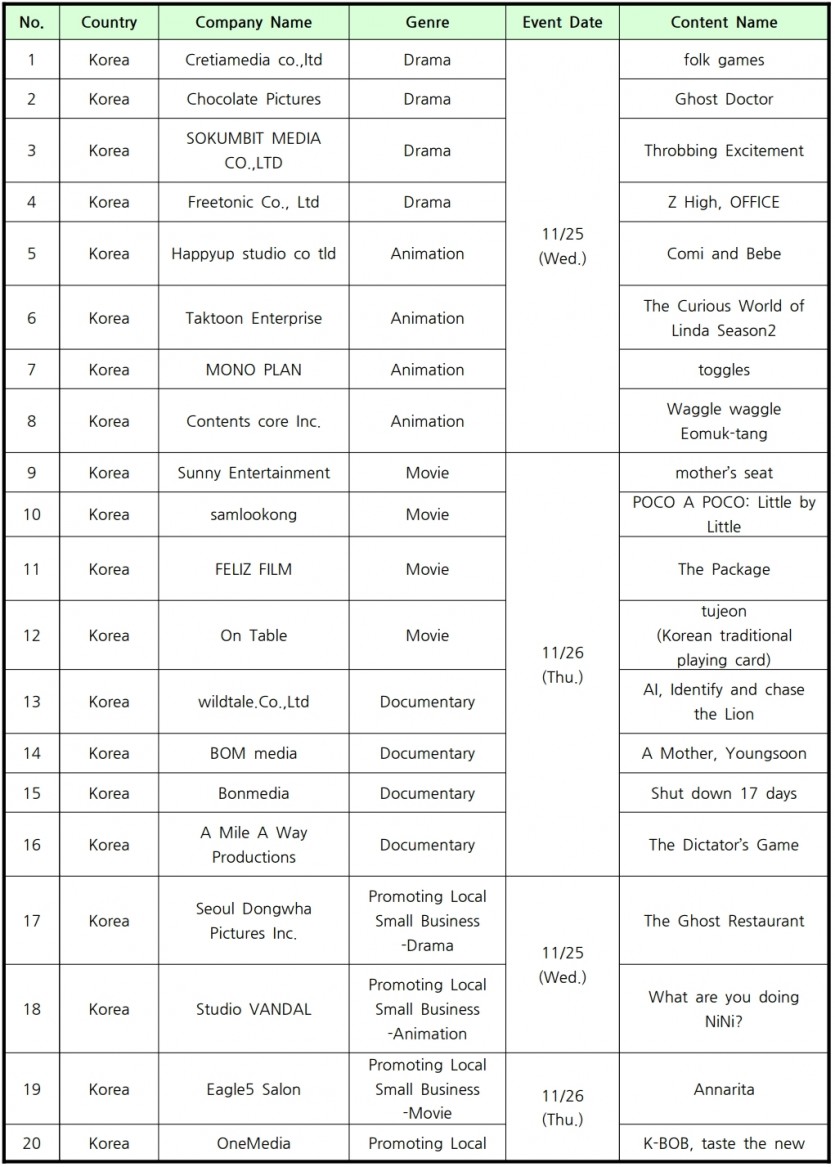 ※  One of seleceted production company has been changed in Movie.
※  Written based on Information from Application form
※
The selected domestic production company (for one person only) will be provided round trip KTX ticket (Economy class) and one night accommodation for the presentation day
(Not provided for local companies in Busan, Group booking by BCM)
※ If the selected company gives up on the participation, the following company with the second best score will participate instead.
※ Selected producers MUST send ENGLISH Presentation File(MS Power Point) until 2020.11.13.(Fri.), 15PM
4. Inquiry
○ Busan Contents Market BCM Global Pitching Manager
- Tel : +82-70-8856-8469, E-mail : bgp@ibcm.tv